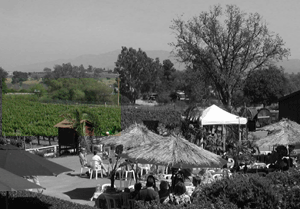 A couple months ago, three of us went up to one of the many wine growing areas of California. There was a big luau complete with a live band playing Jimmy Buffet style music at a winery my sister is a member of. I had a good time, but I still drifted into one of my vague states trying to find out how the money is made.
I kept trying to guess how many bottles of wine one could get out of a vine plant, and then I started multiplying across all the plants I could see in front of me how much an operation like this little place could make. I found a few answers here, and on Kitty Felde's show yesterday. Here's another set of interesting tidbits.
It turns out that I was off by an order of magnitude about how many grapes you can get out of an acre of plants, and I find it a bit miraculous to think that you can get 4 to 8 tons out of an acre depending upon what kind of grape. These days yeilds are down and there is a glut of Sirah and Cabernet. Merlot is selling OK, but only because it was such a bad year for Merlot productivity.
Cheers.