Something important has happened in Los Angeles. You wouldn't know by reading this brief announcement, but the selection of this woman to be Rector of St. John's Church heralds the beginning of something great. I know because I was at the 10 o'clock service this morning.
Rev. Lynn Collins comes to the ordained ministry after a career as a systems engineer and programmer for Chemical Bank, among other companies. She received an Associate's of Arts degree from Queensborough Community College (New York City) in 1974, a Bachelor's of Arts from Brooklyn College in 1976. She then worked at a Wall Street firm while attending New York Theological Seminary. She received her Master's degree from seminary in 1989.

During seminary and beyond, she was a youth leader at St. Augustine's Church in New York City where the Rev. Dr. Errol Harvey is Rector. Next, she was the Diocese of Ohio's Jubilee Ministries urban intern working in three parishes during a two-year stint.

Rev. Collins then became rector of St. Paul's Church in East Cleveland, Ohio, a 150-year old parish where she had been until her June 1, 1995 appointment to the Office of Black Ministries at the Episcopal Church Center.

There's a lot more to her as you can Google and see.
The first thing that came into my head when she started her sermon was that she was channeling Cornel West. It's that 'kinetic orality' of the Old School tradition of preaching that suddenly morphed into the sound of Maya Angelou or a performance poet speaking assiduously. She showed a little of that bop, heh when the preacher emphasizes by squatting an inch and then popping back up. But in a moment she started to shine through and warm up and you could feel her mind and heart in the emphasis. Any moment she'd spontaneously comment on something, right in the middle of service or during her sermon. It's more than a breath of fresh air, it's a warm breeze.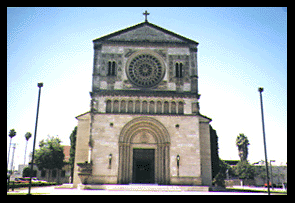 What is clear is that she is putting Love in the middle of her ministry. She is putting thenames of our bishops, and what they are doing back into the intercessions. She is offering up prayers for George our President and Arnold our Governor, and I think we'll hear more about that. She is talking diocesan politics. I heard things in this service this morning that I haven't heard since the Reverend Bill Purcell was the Rector back when St. John's used to fill every pew. She is talking about God's love and refueling the spirit and leaving your burdens at the Cross, so that we may go out into the world and fulfill God's purpose. She is talking about youth ministry and service to the elderly. And she is doing all of this in a way that makes me believe that not only will it happen, but we're all going to love being part. Her emotions are infectious and today's was the longest exchange of the Peace I have witnessed in years. What a debut!
I think this excerpt from a sermon she wrote reinterates much of what her ministry sounds like to me:


Our lives are filled with mixed messages from hyperspace, telephone calls of hopelessness, hearts of loneliness. We often wallow in despair and feel we have no choice but to sin, to lie, cheat, deceive, or compromise our faith for money. Our lives are busy, frequently too busy for family, for friends, for love. We are too busy for ourselves. It is true that we ride the tide of life bending to stay on the top of the rising crest of the wave, but soon we realize, once that crest descends that we are riding on the false promises of the world and we are without love.

Here is when God's grace is most prevalent in our lives, when we are at our weakest moment of despair. How many times have we all said, "Dear God, if you just help me this one last time"; or how many times have we tried to negotiate with God by saying "God, if you do this, I'll teach Sunday School for a season; and be good..." We almost sound like children, trying to negotiate to stay up late. God's grace brings us to a new place in life. God's grace is a gift given unconditionally. It is difficult for the human mind to comprehend "unconditional love." But God's grace can not be earned, it can not be purchased, it can not be negotiated. God's grace is a gift that refocuses our soul and enlightens our heart with an epiphany of newness. God's grace heals, inspires, is creative, and creates. God grace is a gift of love that creeps into our souls and transforms a part of our being.

Experiencing God's grace means we believe we are forgiven and forgive ourselves. Experiencing God's grace simply means we recognize a change in our attitude, our soul, and our very being. God's grace is manifested in a peace and love unknown to human kind. Today, God invites us to accept God's grace. We have experienced God's grace in this place today just by acknowledging the presence of God's love.

She is a healer. You can see it in the way she looks at people, and how she touches them. Interesting times are ahead.
Advent is here, and we are back to the front of the 1982 Hymnal. The cadences of Christmas and the optimism of the baby Jesus are back in the house. The calls have their Alleluias and so do the responses. Can you feel it? The choir at St. Johns has never seemed so strong as they did this morning. Could it be that I was in that horrible echo chamber of the 1970s built nave of St. Francis in PV several weeks ago? No. Was it the karaoke 80s backdrop to 'Contemporary Christian' that I heard at a Baptist church which shall remain nameless? No. It was that the St. John's Choir is simply magnificent and so very confident. This is a world-class choir that sings from both European and African American traditions well. Did you hear me? Well, I say. So many choirs who do the traditional European hymns have no tight bass. The men are just droning in the background. Not here, they are hearty. I cannot remember an extraordinary soprano solo in the recent past, and perhaps they can use that, but otherwise they are simply excellent. When they sing, it's holy.
St. John's Church is about to become, with any luck, the extraordinary place it has been before. I hope very much that it can fulfill its destiny. Pops and others on the search committee labored well and their choice of Lynn Collins shows brilliantly. You could just see all of the members of the Committee in the congregation beaming with pride this Sunday morning.
It's a brand new day.