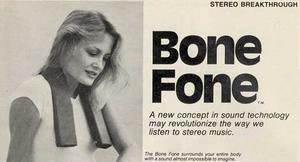 Bone conduction is back!
Way back in the 70s (literally) I used to sell stereo. One of the new gadgets that came out right at the same time as the Walkman, was the 'Bone Fone'. It was a radio embedded in a 24 inch long tube of flexible blue spandex. You wore it over your shoulders like an athlete wears a towel around his neck, or somebody named Biff wears a wool pullover when the sun comes out. The heavy parts were in the ends so you could actually jog with it on.
It used bone conduction to transmit the sounds through your collarbones. Or so it promised. They went for 65 bucks and I sold maybe 3 of them in a whole year. They really weren't very powerful and it turns out that collarbones don't resonate bass very well. Good idea though.
Well apparently, some folks in Japan think that speech is another matter, so they've gone ahead and made a bone conduction cellphone. It looks ridiculous, but it just might work.