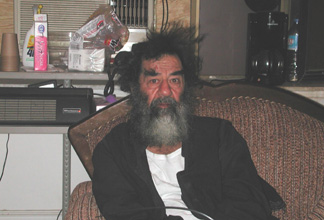 Uncle Saddam came over for the holiday and got blitzed again. Ever since he lost his job, he's been coming over, raiding the fridge and complaining about how nobody respects him any more. He doesn't realize that nobody really ever did, we just put up with him because Grandma Libby kept telling us it would be more cruel to let him crash. Anyway, I kept telling Libby he was beating his kids, so where was here concern about that? Finally Grandpa Dick got sick of it and went to beat the crap out of Uncle Saddam.
Naturally when Dick went over and beat the crap out of him Libby had a fit. All she cared about was trying to stop the violence. When Dick knocked over his 'priceless antique' Lladro off the mantlepiece, Libby hit the ceiling again. I like what Dick did in principle but now we've got to pay the note on this bum's house. Half of his kids naturally still love their abusive father. It's a real mess. Of course it turns out that Dick couldn't find the gun that he swore Saddam was threatening everybody with. I mean Libby's got a point now that we have to run Uncle Saddam's house and pay his mortgage until the kids are responsible enough to do it themselves, but of course Saddam pissed away all the money and nobody knows how to get it back - not that it would be enough.
Some of us are really pissed off at Dieter and Francois, our asshat neighbors who didn't want to march over and kick Saddam's ass. See, he owed them money. Anyway, Libby is saying the neighborhood is going to blazes and because Dick broke down Saddam's door it excuses other people to break into our house. She's afraid of Saddam's kids, like those skinny losers were going to do something scary.
Some people say that Dick flew off the handle because of the rat who drove his pickup truck through our front window and now he's taking it out on Saddam. But I understand that Dick needs to be out in the neighborhood and show that he's not afraid to walk around in public, even though he's come up with this stupid thing on the fridge telling us to come indoors on 'Orange' days.
Maybe if we find the guy who drove the pickup through our front window Dick would calm down and give Saddam a break, but what's done is done. He keeps saying that the example of Saddam will show everybody what's up. That's the news from Lake Woebegone..