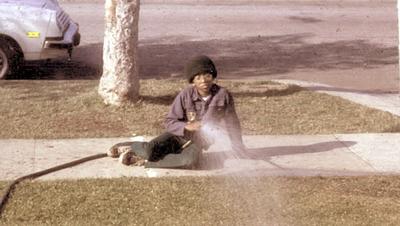 This is not the announcement it should be, but it is the precedent and must therefore suffice. My grandfather died last Friday and I've been thinking of proper ways to write about it. Nothing is forthcoming but the feeling that I am inadequate to the task as the days slide by. The magnitude of this moment hasn't quite hit me right and I don't know which mood should bear the lion's share of publication. Yet I cannot hold back any longer. Everyone who is supposed to know already knows, the rest is just what I say here to the readership.
Back in draft I have a couple of stupid stanzas, something about pouring a drink on the sidewalk - something he'd probably say was a waste of good booze. Nothing is quite right.
I suspect I'll be writing about him in several dimensions over the next few weeks so I don't mind this coming off weird. It was during the time I was searching for a good picture to put in the blog in an kind of obituary style when I ran across this one of myself. The expression on my face was just what I felt like, so I 'shopped the picture a little bit to enhance the feeling of watering grass that will never be quite green enough. Of course we are resigned to tending our gardens no matter how unpromising they may seem. It is the triumph of hope over experience.
I know that the best thing I can do to honor my grandfather is to do right by my family and my family name. I'm glad that I feel that I have no choice in the matter. So the words will come and the words will go but what matters most is that I spend the patient time watering. It's my duty. There is certainly joy in that, but there are times when rewards seem far away and all you can think of is frustration and loss. You keep watering but the grass stays brown.
I keep saving this and then rewriting it.