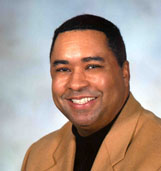 Reggie Mebane was recently hired to manage a big part of the CDC. He's a friend of the family, so we had to pub him up. Reggie is a testament to hard work, humility and integrity. Congrats!

CDC Leadership Profile:
Meet Reggie Mebane
As part of our series of leadership profiles, we continue with a profile of Reggie Mebane, MS, Chief Management Officer, Coordinating Center for Infectious Diseases.
Name:
Reginald R. Mebane
MS Title:
Chief Management Officer, Coordinating Center for Infectious Diseases (February 2005)
Responsibilities:
Direct authority for business operations (including human capital, information technology, grants, facilities, administrative services, etc.) for the Coordinating Center for Infectious Diseases (CoCID). He is one of seven Chief Management Officers (CMOs) who report directly to Bill Gimson, CDC's Chief Operating Officer.
First job at CDC:
Current position
Path to public health:
"My path to CDC started with my path at FedEx. I started working for FedEx in 1981 when I took a part-time position as a handler where I unloaded trucks, loaded planes, etc., while working toward my bachelor's and master's degrees from the University of Memphis.
"While I worked at night at FedEx, I worked as a psychiatric case manager and psychotherapist in Memphis, during the de-institutionalization of the mentally ill. That was my first tie to public service, and I did that for about six years. That work taught me very valuable life lessons in leadership and humanity-that stereotypes are not accurate and that perseverance is the most crucial life leadership skill of all. As a result of this experience, I later became Chairman of the Memphis Health, Education & Housing Finance Board. The restructuring of this board under my chairmanship is my legacy to Memphis in making housing affordable to people of moderate income means.
"Over the years, I was promoted at FedEx-to manager, then senior manager and eventually, as part of the FedEx Leadership Institute, teaching leadership and management practices to FedEx employees from all parts of the company around the world. I also was the corporate lead for diversity training from 1995 to 1997. In 1997, I was promoted to Director of International Operations, where I was responsible for overseeing shipments to and from more than 200 countries.