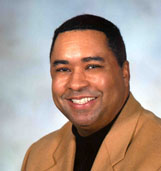 Reggie Mebane was recently hired to manage a big part of the CDC. He's a friend of the family, so we had to pub him up. Reggie is a testament to hard work, humility and integrity. Congrats!

CDC Leadership Profile:
Meet Reggie Mebane
As part of our series of leadership profiles, we continue with a profile of Reggie Mebane, MS, Chief Management Officer, Coordinating Center for Infectious Diseases.
Name:
Reginald R. Mebane
MS Title:
Chief Management Officer, Coordinating Center for Infectious Diseases (February 2005)
Responsibilities:
Direct authority for business operations (including human capital, information technology, grants, facilities, administrative services, etc.) for the Coordinating Center for Infectious Diseases (CoCID). He is one of seven Chief Management Officers (CMOs) who report directly to Bill Gimson, CDC's Chief Operating Officer.
First job at CDC:
Current position
Path to public health:
"My path to CDC started with my path at FedEx. I started working for FedEx in 1981 when I took a part-time position as a handler where I unloaded trucks, loaded planes, etc., while working toward my bachelor's and master's degrees from the University of Memphis.
"While I worked at night at FedEx, I worked as a psychiatric case manager and psychotherapist in Memphis, during the de-institutionalization of the mentally ill. That was my first tie to public service, and I did that for about six years. That work taught me very valuable life lessons in leadership and humanity-that stereotypes are not accurate and that perseverance is the most crucial life leadership skill of all. As a result of this experience, I later became Chairman of the Memphis Health, Education & Housing Finance Board. The restructuring of this board under my chairmanship is my legacy to Memphis in making housing affordable to people of moderate income means.
"Over the years, I was promoted at FedEx-to manager, then senior manager and eventually, as part of the FedEx Leadership Institute, teaching leadership and management practices to FedEx employees from all parts of the company around the world. I also was the corporate lead for diversity training from 1995 to 1997. In 1997, I was promoted to Director of International Operations, where I was responsible for overseeing shipments to and from more than 200 countries.
"In 2001, I moved to Buffalo, New York, to become the Chief Operating Officer for a company that FedEx acquired-one with $2 billion in revenue yearly. My job was to manage the massive changes, create best business practices and facilitate the merger and integration of over 1,000 new employees.
"About three years into this assignment, FedEx went through a major reorganization and restructuring. Just for perspective, the company has over five different operating companies and over 150,000 employees worldwide with over $27 billion in revenues. Each company operated independently, but competed collectively. I like to think that there are immense parallels to the change we're experiencing now at CDC.
"After this reorganization, FedEx offered senior executives the opportunity to take an early severance package or early retirement. It was the opportunity of a lifetime for me to have a whole new management career and the freedom to choose a career path based on my personal passion to serve others.
"It was CDC's mission that attracted me here. CDC is an icon name brand just like FedEx or Wal-Mart. You could not be doing more important work in life than what the great people of this organization are doing now-saving lives and improving health.
"One other career area that I'd like to mention is teaching. While I worked the night shift at FedEx, I also was on the adjunct faculty of the University of Memphis. Last year I also taught at the University of Buffalo in the MBA program."
Last book(s) read:
His Excellency: George Washington by Joseph J. Ellis. "I really love old detective stories that took place in the 1930s, 1940s and 1950s. My favorite author of all time is Ross MacDonald (that was his pen name; his real name is Kenneth Millar). I am also reading a series of biographies-Benjamin Franklin, John Adams, and Alexander Hamilton."

Family:
Married 18 years to his wife, LaRhonda, who has a background in finance. They have twin daughters, Lindsey and Mallory, age 17, who have aspirations to study law and medicine, respectively. They both have black belts in karate.
"In my free time, I enjoy exercising, writing and old movies-Turner Classic Movies, especially film-noir. I collect CDs and DVDs of old-time radio shows-like the Lone Ranger, The Mercury Theater, Orson Wells and gum-shoe detective stories.
"By the way-FedEx was featured in the movie "Castaway." I was actually in the movie. At the end of the movie when the Tom Hanks character is being welcomed back to FedEx at a banquet, they wanted real FedEx executives. The 10 seconds you see me on the screen took two days to shoot!"
What are the top priorities you are working on? "Over the next 30-60 days, the big challenge for me is to get a handle on organizational performance and build a good business plan that will enhance all three centers (NIP, NCHSTP, NCID)." Meanwhile, a top priority "is getting the Coordinating Center up and running from a staffing perspective. We would like to have the Coordinating Center fully staffed by September.
"The next immediate priority is improving communications with all the divisions and branches. That means we get our website updated, make sure there is information coming out consistently from myself and Mitch [Cohen, Director, CCID] so that people will know where we are in our efforts related to the Futures Initiative. More importantly, we must build in mechanisms for effective feedback and consistent leadership visibility and accessibility. This means face-to-face meetings in groups and in one-on-one sessions within and outside our own coordinating centers. In my most recent meetings with staff and people throughout the organizations, one point that keeps coming up is that it is important for us to clarify how the new organizational structure will add value. The second thing is to really be clear on goals and roles within the centers.
"I also plan to continue to fully share best practices with my fellow CMOs and to utilize the Management Council and Executive Leadership board as platforms for strategy and positive change related to the Futures Initiative."
Mebane also plans to focus on leadership. Citing The Leadership Challenge by James M. Kouzes and Barry Z. Posner, he said "Good leaders inspire the heart-I think this is the soft side of the leadership challenge we need to work on. It doesn't matter if you are a technology person or a scientist, behind it all we are still people, and people still want to feel connected to the organization and connected to the leadership. That's why we have to make a concerted effort to be more visible and accessible. The other thing we have to do is enable people to act-we should create a culture where people act responsibly and freely. We should also reward and provide incentives for people who embody those values.
"On the service side of the business, we have to look at how we can run the business better. As a team, we must collaborate to figure out how best to consolidate services, create efficiencies and run the business better while simultaneously doing the right thing by our people. Establishing best business practices and creating efficiencies are at the top of the list on the service side.
"As for my top finance priorities, I am focused on executing the current budget and planning for the next year. I think that we can both meet our public health mission and save money in some areas. In order to be able to do that, we need to engage people in the process to look hard and deep at what we are doing and finding more creative ways to do business better.
"To summarize, my focus right now at CDC is on being the best leader and doing the best job that I can. I want employees to know my sincere commitment to the organization and to the people. They won't find anyone who will work harder or longer or be more sincere in trying to do the right thing for the organization and its people. It's the way I've always managed and to me, it's not just a job, it's a way of life.
"Longer term, I hope to be a part of this organization for many years. I'm very proud to be a part of the CDC mission. My motto is no egos, no silos; one team, one mission."