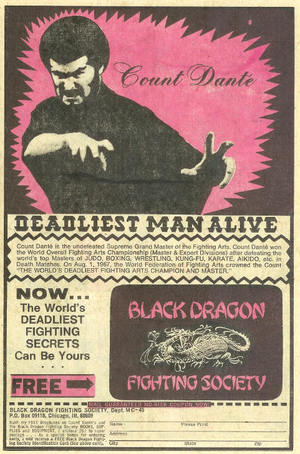 OK this guy is the ultimate badass. Check it:
Count Dante personally went to Muhammad Ali's (Cassius Clay) house on the south side of Chicago and challenged the Heavyweight Boxing Champion of the world. Count Dante' also challenged the World Heavyweight Wrestling Champion and the World Heavyweight Judo Champion. Count Dante personally entered the contest and defeated all the comers. The December 1970 issue of Mr. America magazine praised Count Dante for his attempts to update the science of self-defense. In the same article, featured in the August 1971 issue of Official Karate magazine, Count Dante proved the inferiority of the traditional martial arts as they were being practiced at that time. In this book, "The Worlds Deadliest Fighting Secrets", the Count elaborated on the shortcomings of all the present day defense systems. In both this book and his "Karate is for Sissies" article, Count Dante stressed the weakness of the martial arts systems as concerns their use and practicality on the street, and stressed that the self-defense arts should become FIGHTING ARTS. This book and article completely changed the structure, attitude, and application of the martial arts, and since that time most top martial arts leaders and publications have stressed the STREET APPLICATION of their arts and articles much as if they had conceived the idea themselves.
What makes this guy particularly interesting is this comment:
" ...Special note: Proper emphasis on courage, aggressiveness, and actual training hall and street application of effective fighting techniques, is the most serious lacking segment in modern day karate and kung fu schools... most karate schools place little emphasis on courage or "guts fighting" and aggressiveness and usually even frown on it. They also do not permit body contact in their self-defence and sparring practice. This makes for a safe training hall but does little to help develop the body to withstand strike punishment and actually hinders the student when they are forced to use it on the street."
Fascinating. Are we really learning practical matters in our strip mall Karate Dojos? This is the other side of the coin that I will be exploring today when I talk about higher education.